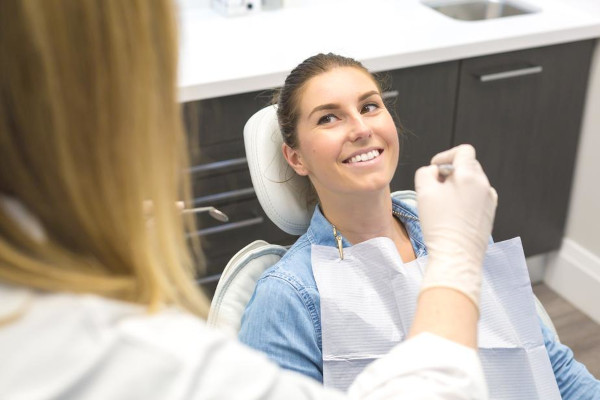 Google My Business is the most crucial strategy for local businesses, regardless of the size. As local and voice searches continue to rise dramatically, it's essential for location-based businesses to have a well-strategized and completed Google My Business account. 
Many small businesses create their GMB account and put in the necessary information, such as an address, phone number, and hours, and leave it. 
There is one important rule, especially in marketing, to understand: people are lazy. 
And the more your business caters to their laziness, the more conversions you will get.
Case Example of GMB
For instance, if I was looking for a dentist near me for teeth whitening, my search will yield the top 5 closest dentists in my location. There may be an ad for a dental office, but I would most likely skip the ad and look at the directory provided.
My next step is to look at the name of the business and the reviews.
I now narrow my search to the top 2 or 3 locations with great reviews, and I begin to compare the two.
One business has 15 5-star reviews and only has their necessary information filled out. I can see their location, their hours and their phone number. They also have a beautiful website with all the information I would need to book my appointment.
If I wanted more information about their services, I would have to go to their website, search for the service I am looking for, then go to their contact page to book an appointment.
The other business has 13 5-star reviews and has their complete Google My Business profile filled out. Under their services, they have listed 'teeth whitening' as one of the services they offer along with more information, such as prices starting at, how long the procedure takes and how I can book my appointment. They also provide an option to text message' the business, which makes it easier.
The second business answered all my questions for me right on Google without adding steps of me clicking on their website, exploring their services to confirm they offer what I am looking for and then contact them. No need to go to their website or waste time.
Setting Up Your Google My Business Account
If you do not have a Google my Business account yet, you can register with GMB here: https://www.google.com/business/
If you don't have an official address for your business you will need to put an address where you receive mail. After registering your business on GMB, Google will send you a verification code. They send this code to verify that you are in the physical location you are signing up with. Your Google My Business profile will not appear on Google or local search results until you receive and verify the code, which can take up to three weeks.
If you operate out of your home, you can register with your home address to receive the code but you do not have to make your address public. The general area is what will come up when searchers are looking for a business like yours.
It's best to create your GMB profile under your email address, one that you will have access forever, and add people, such as Jalalio Digital Marketing, as needed to maintain and optimize your account.
Your GMB profile can be optimized while you are waiting for your verification code.
Having a Google My Business Account & Reviews is the perfect start, but there's much more to optimization than these factors. 
Our recommendation for businesses who have geo constraints is to invest in their Google My Business + SEO.
We offer one-time Google My Business Set-ups & ongoing GMB optimization packages.
Contact us now for a free consultation.