YouTube is the world's second most visited website. Over 1.6 billion users visit YouTube monthly to consume 1.2 billion hours of video daily. YouTube is becoming one of the most effective means of driving traffic and brand awareness in today's video-centric world. It is expected, videos will account for 82% of all web traffic in 2021.  

However, it's also one of the most underutilized channels for businesses of all sizes and for all the wrong reasons. This itself is an advantage for you - now you have fewer competitors, which means you have a higher chance to drive brand growth and boost your sales funnel. 

Small and medium businesses may not have considered YouTube to be a promising avenue for lead generation, mainly is they have a geographical constraint. For instance, only so 'far' local businesses, such as accountants, plumbers, dentists and real estate agents, can provide their services.
One of the great things about YouTube ads, like all platforms, is that it allows you to choose specific locations to have your ads shown. So if you only want your ads to be seen in Toronto or Mississauga, you can easily create these geographical constraints to ensure that your ad is going to correct the audience. You can use other attributes to fine-tune who your target clients are as well, which makes the typical ROI for YouTube ads an excellent investment for local businesses.
You might be thinking, if YouTube marketing is such an effective platform for local businesses, why are there not more local businesses adopting it? 
Well, that all because of the myth - Creatives are hard and expensive. 
As a small business owner, you always look for a cost-effective channel to acquire customers.


Myths are myths.


They can't be turned into reality. In reality, YouTube creatives are not that hard - all you need to focus on the first five seconds of your ad. As far as cost is a concern, With YouTube TrueView, you're only charged if the ad is viewed beyond 30 seconds.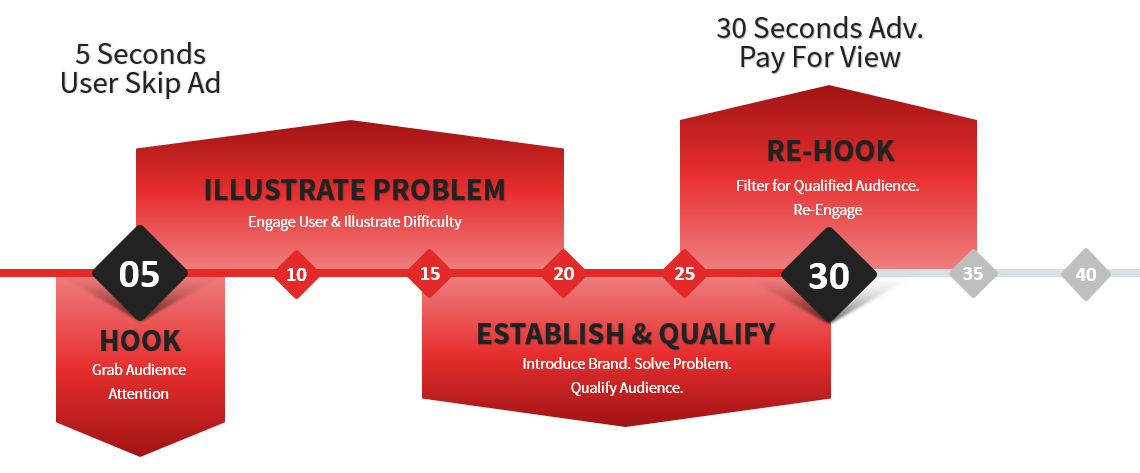 What is YouTube TrueView? 
They are the skippable ads that run before, during, or after the videos on YouTube or across other sites, games, or apps. They are the ads that you sometimes notice in the search results and the side-bar. Let me show you how you can create winning creatives for YouTube ads.



YouTube Ad Creatives 
Content and the creatives are the two main elements that make your YouTube ads perform better than others. About 60% of the video ad campaign's ROI is driven by creatives alone. Well, as you all know, there is no magic recipe for winning content; all it has to be unique and engaging. As far as creatives are concerned, YouTube has broken down its own set of recommendations called ABCD of creatives. 



YouTube's ABCD for Winning Ad Creatives 
The recommendation falls under the following categories: 
A= Attract 
B= Brand
C= Connect 
D= Direct




Attract - From the beginning 
As you know, viewers see your ad while waiting to watch the video they want to see. Your goal is to grab their attention from the beginning. So they won't skip your ads. This can only be done by providing value right away in the first five seconds. After five seconds, YouTube will automatically serve its users with an ad skip option. 
Hook Your Viewer
As an advertiser, you have a tiny time frame to attract the viewer's attention. So, try to hook your viewer from the beginning. There are numerous ways to do so, 
Use familiar faces - that are friendly, relatable, and recognizable. 

Use attention-grabbing sound - If viewers like the sound effect, there are 67% chances that they will not skip soon. 

Use creative elements - People like humour and are more inclined to view ads that make them laugh. 




Brand - Integrate in a meaningful way
While you want to hook people with your ads, you also thrive for recognition. After all, without recognition, people won't know who you are. And for the effectiveness of your ads, you need your viewer to recognize you. 
It is highly recommended to integrate your brand in the first five seconds for better optimization. 




Connect - Establish an emotional connection 
One way to establish a connection with your viewer is to get direct with them. But, that sometimes feels a bit rude, and the viewer starts hating you. So, how do you establish a connection with your viewer? The answer - Emotions. 
According to Google Internal Data, "Humor and suspense are associated with higher ad recall. Humour can also be associated with higher brand awareness and viewership."
Remember! Videos ads without sound are skipped 98 times more than ads with sound effects as people find not only such videos boring but also unengaging. 






Direct - Ask the viewer to take action
Now that you are about to end, your ads serve your audience with a clear CTA. The CTA will be self-explanatory, and the viewer knows if they click where this CTA will take them either on the website, product page or to subscribe channel. 
For YouTube advertisements, you don't need to have a ton of creative assets. So, don't feel like you need an entire video room full of creative elements. 
As I mentioned earlier, your main goal is to hook people in the first five seconds. So, I make a 30-second video ad and play with different versions of the first five seconds.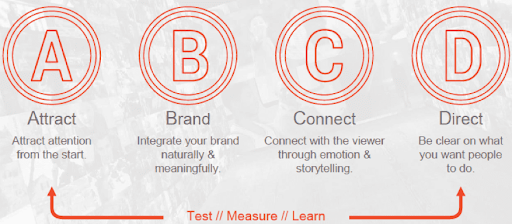 In terms of capturing attention, YouTube is one of the best platforms. Not just because of the time your audience spends, it's all about understanding what the user wants and what they'll find valuable in a given instant.